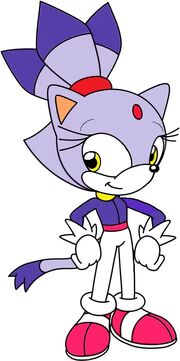 She Is A Good Friends With
Sonic
,
Sally
,
Tails
And
Knuckles
. She Has A Wonderful Perfect Skills On Her Fire Defeated The Bad Guys With Coconuts, Scratch And Grounder.
Artworks
Edit
Appearance
Edit
She Is A Cunning Cat With Fire Abilites She Talks
Personality
Edit
She's Kind Hearted Carring And Cool Under Pressure When She Gets Mad At Robotnik She Really Lets Out Her Bad Side and Puts Fire On Them
It Was You You Did It?
YOU WIIIIIIIIIIIIIIIIIIIIIITCH!
THAT FREAKIN DOES IT!
Huh?
It's A Date
You Gotta Be Kidding!
That's Why I Chopped Em Off Dipshit.
Oops Oops Agian
Oh Man That Cant Be Good
Giant Robots Agian?
No Problemo I Beat That Metal Guy Once And I'll Beat It Agian!
He Usually Is Dont Worry Sonic I'll Take Care Of It! (to Sonic the Hedgehog)
No Way How'd She Do That?! (to Sonic the Hedgehog about Katella)
Bad Like Really Bad?
You Think You're Little Robo Scrats Can Stop Me?! (to Dr Ivo Robotnik)
Aww What's The Matter You're Lookin Kinda Worried (to Coconuts)
Yeah For You! (to Scratch)
FREAKISH PERVERRRRRT!
W-What'd You Do I-I Cant Move?
Don't You Have A Dark Uniform? (to Grounder)
WHY'D YOU DO IT ROBOTNIK?! WHY'D YOU KILL MY DAD?! (to Dr Ivo Robotnik)
THEN IM GONNA LOVE KILLING YOU! (to Scratch)
ROOBOTNIIIIIIIIIIIIIIIIIIIIIK!
THE ONLY THING I GOT IS THE ONE MY FIST IS GONNA HAVE WITH YOU'RE FACE YOU FREAKSHOW! (to Dr Ivo Robotnik)
Youv'e Gotta Be Kidding
I DON'T GIVE A DAMN WHO HE IS! (to Lucas About Dr Ivo Robotnik)
I Got Another Question Before We Go.
YOU THINK YOU'RE LITTLE ROBOT SCRATS CAN STOP ME?! (to Dr Ivo Robotnik)
Who Cares What You Think Robotnik? (to Dr Ivo Robotnik)
Uh Actually My Buddy Miles "Tails" Prower Is Gonna Be President (to Miles 'Tails' Prower)
Aww What's The Matter Robotnik You Feelin Ok You're Lookin Kinda Worried
Naw It's Cool You Guys Are Right
Ohhh Now I Get It Yeah you Guys Wanna Catch Good Old Sonic Here To Take To Robotnik Right? Well YOU KNOW WHAT?! YOU CAN BLOW IT OUT YOU'RE ASS! SO YOU THINK SONIC IS A FUGITIVE HUH?! JUST A CRIMINAL MADE TO ROB AND THAT'S IT HUH?! DRAT WHAT A BUNCH A FREAKS HE'S NOT A CRIMINAL HE'S GOT A MIND OF HIS OWN YOU WANT HIM TO GO ARREST HIS OWN KIND CANT YOU ROBOTS SEE HOW FREAKISH THAT IS WELL I CAN FREAKS THIS IS MY SPEECH RIGHT?! YOU GOT A PROBLEM WITH ME BEING FIREYISH?! I WONT LET YOU DO THIS ANYMORE AND THERE'S NO REASON YOU NEED TO BEING CAUGHT EITHER! (to Scratch and Grounder and Saving Sonic the Hedgehog)
Sonic....
I'll Catch A Cold? Man You Guys Are Something Else.
Yeah I Know He's Giving Me The Creeps Too I Dont Know His Deal Is So Stay Sharp (to Sonic the Hedgehog)
Then Let's Get This Over With Quick!
This Is Defintly Not Like Last Time.
We Coverd Up You're Eyeholes Agian Try That Tengatsu Thing NOW!
So We're Sure His Help Aint Gonna Attack You Chicken Face (to Scratch)
IN YOUR'E FACE ATTACK! FINISHING FIRE MOVE SENNY SOJITSU!
Huh That's Funny Coming From You (to Silver The Hedgehog)
Watch It Guys He Was Trying To Mess With Me (to Team Sonic)
Shut It I Got My Reasons With That Ya Freak! (to Coconuts)
YOU STINKIN CHICKEN DO YOU KNOW WHO YOU'RE MESSIN WITH?! (to Scratch)
I Wanna Know What's In This Place Like Why Robotnik is In Charge In Stuff.
So What You're Saying Is Robotnik's The Top Dog Right?
I Dont Know The Rules About Boxing Sonic Those Rules Are Iligal All Right Robotnik Bring It On. (to Sonic the Hedgehog and Dr Ivo Robotnik)
Looks Like You're Robots Arent The Only Thing Turn To Scrap So Is You're Face Robotnik! (to Dr Ivo Robotnik)
Scratch! It Was You All Along?! (to Scratch)
WHAT? Oh Come On Now You're Getting Picky What About What Happend Yesterday?!
YOU FREAK THIS IS CRAZY WHEN WERE BOXING WE.....
Uhh....
YOU GOTTA BE FREAKISH KIDDING ME!
She Looks Like Demeter From Cats
Voice ClipsEdit
Voice Actors
Edit