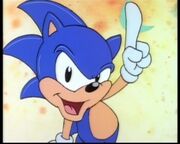 "Sonic says" is a little video that appears after each AoStH (Adventures of Sonic the Hedgehog) episode, and it explains what little kids should and shouldn't do. Sonic and Tails talk about not playing with knives, how important sleep is, and lots of other things that are important in a kids everyday life. If there is ever anyone doing anything bad, Scratch or grounder, Robotnik's robots, are usually to blame! Often it's Sonic telling Tails what he should or shouldn't be doing. He tells Tails not to open the door to strangers, not to be distracted by things such as music when crossing the road, and a ton of other things as well. Sonic, to help, often makes puns when he's telling everybody a lesson.
Intro: The intro starts with a huge, orange block. Tails then comes along with blue paint and paints the words: Sonic, and then sez underneath. Sonic pops out of a little hole between the words and changes sez, to says, and then gives the audience a thumbs up!
Strong points - Sonic doesn't just say normal things like "Don't talk to people you don't know" or other simple things, he says things like "Don't call 911 if your problem is only little, because the police might come to you, instead of someone who really needs it. Instead, tell a teacher or parent." Also, they are spoken in a way that kids will understand, so that more kids will follow them.
Weak points - Not actually very many. In fact, none! They may be short, but you can't really make one lesson last very long.
The most Notable Sonic Says Short for making YouTube Poop videos was Sexual Harassment which has Adult Humor.

Rating: 8.5/10 - Very good
Community content is available under
CC-BY-SA
unless otherwise noted.